Websites For Boat Brokers And Dealers

The old saying goes, you can't judge a book by it's cover... but when it comes to your Boat Brokerage website, potential boat buyers will pass judgement in a matter of seconds!
Traditionally boat brokers could get by with a bricks and mortar office but more and more businesses are moving to selling their stock online. It is now the starting point for the majority of potential customers looking to find the boat of their dreams
An ameture looking website or no website at all is not best first impression for someone looking to buy your boats. Think of it like a business card. The brokers who've invested in a quality website are reaping the rewards of return customers and quality sales. If you want to attract the GenX and GenY boat buyers who will jump on the internet before ever looking at a phone book, you'll need a website that resonates with your target audience.
The Boat Broker's Marketing Package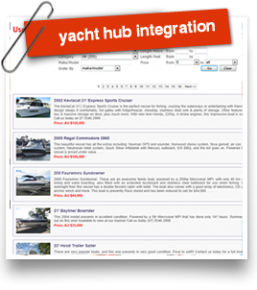 The boat broker's marketing package is a high quality, professional website package tailored to your boat brokerage's image. It targets your niche market and suits small to medium sized brokerages looking to increase their boat sales and create a professional image for their customers. It also provides an easy to use email marketing system to promote your boats to your customers and build awareness of your full range of boats sales services.
The Boat Brokerage package is unique and proven to generate maximum sales leads for your brokers. We believe your website should generate you business. The boat broker's marketing package allows your business to shine and tells your customers about the range of boats you're selling. If your current website isn't generating you new sales leads, it isn't working for you.
Package Includes
Website Template Design built from Your Logo
Website Hosting
Edit your own website content with our Content Management System
Website Built-In Analytics
Manage Your Own Email Accounts
Search Engine Optimisation
Online Email Marketing / Membership
Integration With Your Boat Listings On Yachthub
Google Map of Your Location
Contact Us Form
Social Networking
Make Your Website Work
Order the Boat Broker's package today and we will contact you regarding the process of building your website and discuss your website needs. Please fill out the form below to order your Boat Brokerage Website.